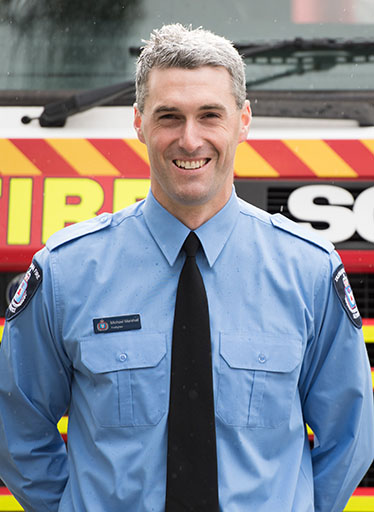 From winning the Ashes at Lords to battling the ashes during Tasmania's devastating bushfires, Michael's career path has definitely been in the hot seat.
---
What does a firefighter do that most people wouldn't know about?
In Tasmania, firefighters are trained in, and respond to, a wide range of incident types compared to some other jurisdictions.
The job requires a broad range of skills that regular training helps maintain. These include hazardous material incidents such as gas leaks or chemical spills and a range of technical and industrial rescue skills such as domestic, heavy, confined space, vertical and urban search.
There are also career opportunities in non-operational roles such as delivering the school fire education program and working in building fire safety.
What is the best thing about working with the Tasmania Fire Service (TFS)?
The most enjoyable thing for me is the team with which I get to work. The team aspect was one of the reasons I was attracted to the job. The other thing I enjoy about working at the Tasmania Fire Service is the opportunity to serve the community. It was the initial reason I applied.
What does a typical day (or night) involve?
Our days and nights can be varied depending on the incidents to which we respond. All our shifts start with checking the equipment to make sure it is operational. There are a range of activities on top of responding to emergencies. This can include regular training activities and station duties such as cleaning. We also assist with practice evacuations and site inspections as part of our pre-incident planning. There is time for personal study or going to the gym!
What are some of the challenges of your job?
The nature of some of the emergency incidents we attend. Working as a crew makes it easier to get through tough situations.
Another aspect that can be challenging is the unpredictable nature of the job. There are periods of time where it is reasonably quiet and then there are periods where it is really busy. Being able to deal with both the quiet and busy times is important so we are ready to respond when called.
Does this job offer work/life balance?
We work on a 4 on, 4 off, rotating roster of 2 day shifts, 2-night shifts and 4 days off. This has certainly helped me to find a better balance at home, compared to my previous job. I have been able to spend more time with my wife and children.
You do miss things because of rostering, such as working on Christmas Day and family birthdays. But we are not alone, there are many professions and industries that have similar experiences.
Have you always been a firefighter?
Before the fire service I worked as a professional in a range of sport science roles. I spent most of my time working at Cricket Tasmania. Initially, as the Performance Analyst, and then as the Strength, Conditioning and Rehabilitation Coach and then as the Sport Science Sport Medicine Manager.
I also spent two years as the Performance Analyst for the Australian Men's Cricket Team, touring with the team as a member of the support staff.
What was the best memory from that time?
I think as a passionate cricket lover, the experience of working as part of the Australia Cricket team's support staff was one I'll never forget.
Standing on the MCG for the national anthem at the Boxing Day test and travelling to India and experiencing the passion they have for the game. We visited the Taj Mahal and were followed around by hundreds of locals. We toured South Africa where the team won the Champions Trophy and in England we met the Queen and Duke of Edinburgh at Lords during the Ashes series.
In Tasmania, being involved in the first Sheffield Shield win was another career highlight for me.
What life skills did you develop from your previous job that you use now?
The biggest thing I have taken from my previous job is teamwork. The ability to look beyond your own needs and find opportunities to help those around you to achieve the organisation's objectives.
I have watched and learnt from some excellent coaches and leaders and I try to use that knowledge every day. I learnt how important good culture and communication is to every successful organisation. I continually look for ways to help those around me.
Do you need to go to university or gain a VET qualification to work in the TFS?
There are no set qualifications or pathways to join the TFS. The great thing about becoming a firefighter is there is such a diverse group of people from varying backgrounds. There are people with university degrees, trade and military backgrounds and others recently out of school.
Firefighting skills are taught once you join the service. The most important thing is your willingness and ability to learn new skills and contribute to the team.
Working in frontline emergency services can be very challenging; is it a job for everyone?
The short answer is no, it's not for everyone. There are many dangerous and challenging environments that are hazardous, uncomfortable, and confronting. We have an increased risk of health conditions due to these hazardous environments and mental health issues due to the nature of the incidents we attend.
However, there are a range of strategies and support services in place to mitigate these risks and we are always there to support each other. For me personally, the positives of the job outweigh the potential downsides.
What advice would you give someone thinking of applying for a role with the TFS? Speak to a firefighter or the TFS recruitment team and try and get a good understanding of the work and what's involved, both the good and bad parts. Do your research on the recruitment process and prepare well for it. The TFS has some great information on their website and runs 'come and try' days for the physical abilities testing.