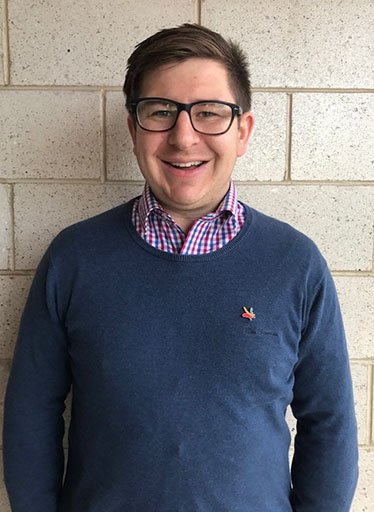 Putting your best foot forward is not an expression you would hear Podiatrist Joe Brooks say. He wants all his patients to have the best possible health care – and that includes both feet.
---
So, what does a podiatrist actually do?
A podiatrist is an allied health professional who is an expert in the health and wellness of the foot and lower limbs. We treat babies and toddlers, senior members of the community and everyone in between. Helping people with their foot health is very important. If there is something wrong with your feet, it impacts your ability to move freely and can be very disabling.
Why did you choose a career in podiatry, and did you ever consider another role?
Two main factors; I had a strong desire to help people and I had a fascination with the human body.
When I was looking at career options I thought "what am I good at?" I did pretty well at health, biology, physical education and sport at school. I ended up looking at all the options within the health industry. I considered Physiotherapy but ended up getting into Podiatry and I haven't looked back.
What is the best thing about your job?
The ability to help people of all ages and stages of life – whether it is an elite athlete or a child with a disability. Movement is so important to people and helping them with care and advice is very rewarding.
Talking to and getting to know patients is an honour. This helps build a strong, long term therapeutic relationship.
What are some of the challenges of your job?
Empathy fatigue is a challenge that effects a lot of health professionals. It is the emotional and physical exhaustion that happens from caring for people daily. The way I combat this is to have a great community of fellow workers. We share our frustrations, destress with physical activity, and promote a good work life balance.
Are there specialisations in podiatry?
Podiatry is an allied health profession that can lead into a medical specialty. Podiatric Surgery is the only specialisation within the profession. There are other special interest areas within podiatry such as sports/musculoskeletal podiatry, paediatric podiatry and high-risk podiatry relating to working with patients with high risk of diabetic foot disease.
As a general podiatrist you can work across all these domains on a daily basis. And you can complete minor surgeries on ingrown toenails! The scope of a podiatrist is very varied and can cover a wide range of people and conditions.
Do you collaborate with other health professionals when treating a patient?
Absolutely! We share patients between a wide range of professions such as Physiotherapists, Exercise Physiologists, Dietitians and of course Podiatrists.
Podiatrists will work with General Practitioners to help manage a patient's medical condition. We work with Endocrinologists who are specialists in managing patients with diabetes. If a patient has an active foot wound, the podiatrist may work with an Infectious Disease Specialist, Vascular Surgeon, Orthopedic Surgeon and Endocrinologist.
Podiatrists often work with a Sports and Exercise Medicine Physicians. We also work with Paediatricians and other paediatric specialists like Paediatric Neurologists and Paediatric Rheumatologists. Paediatricians diagnose and treat health conditions that affect babies, children and young people.
Do you need to go to university to become a podiatrist?
Yes, Podiatry is a tertiary/university qualification. It is available in most states of Australia but unfortunately not in Tasmania. There are pathways to study here and then complete a Masters in Podiatric Practice.
Looking back at your school education, what life skills did you start to develop that you use now?
Empathy and the ability to communicate effectively with a lot of different people are important. You can develop these in any job and at any stage of life. They are skills that will hold you in good stead for all occupations.
What advice would you give someone thinking of working in allied health, in particular podiatry?
Go for it! The ability to help someone is such a rewarding and purposeful aspect of your job! They say find something you love, and you'll never work a day in your life.
If you are considering allied health, then I'd encourage you to do some work experience within the field. Look for part time job opportunities within the health industry. Talk to people working in that field about what they love about it. There is plenty of work available in the Tasmanian health industry and you'll always be able to get a job in allied health.